At the beginning of October, we welcomed Aimee to the Brace Digital team as a new Umbraco Web Developer.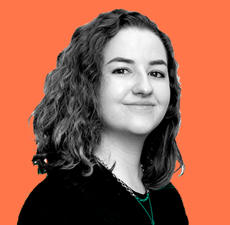 Aimee will be working on both the backend and the frontend of Umbraco websites -- although she has a bias to the frontend! She is responsible for converting designs to website code and she also maintains frontend aspects of websites. This includes making sure all websites are responsive and have the right Accessibility standards.
Aimee has worked in both big and small agencies throughout her career and, luckily for us, is very familiar with the Umbraco CMS! She started off as a Junior Frontend Developer, never touching the backend/CMS side of things. But in her next role, Aimee was full stack which allowed her to understand how the frontend and backend code communicated to create a website.
Speaking of her past experience, Aimee says, "I have found that with smaller agencies there is more of a close knit family vibe that can make you feel more welcome and needed. Each role has been very different."
We asked Aimee how her first few weeks have been at Brace Digital so far:
"They have been great! I've mostly been setting up all of the client solutions, but it has been interesting to see and learn all of the processes that have been set up to maintain a smooth workflow."
Aimee is looking forward to getting stuck into the frontend code because her last job was very backend heavy -- time for a change!
Get to know Aimee with a few 'this or that' questions:
Tea or coffee?
Neither really, although I do prefer the taste of coffee
Morning or night?
As much as I would love to be a morning person, I have always been a night owl
City or countryside?
Both, it's too hard to decide!
Messy desk or clean desk?
Clean desk
Emails or video calls?
Video calls
See the future or change the past?
I don't think I would choose either. I believe that everything happens for a reason!
Books or movies?
Movies
Dogs or cats?
I have both so I definitely can't choose one! 
And, finally, here's a fun fact about Aimee:
"I collect old film cameras! It started when my Grandad gave me his old 8mm film camera and 35mm canon from the 60's. I then have a 35mm Yashica camera which I often use and works very well and, most recently, I have added an Ikoflex TLR box camera which I am told works, but I haven't yet found film and tried it for myself! I have a few more that I really want to get but it can be an expensive hobby."
Join us in welcoming Aimee to the team! She's already proving to be an asset to us.
To discuss your website development requirements, fill in this contact form and a member of our team will get back to you shortly.