As any website development agency will know, client satisfaction and effective communication has to be at the forefront of everything we do. For us, this is where our Client Partner really comes into their own. By carrying out weekly client calls, providing monthly reports, managing ongoing projects, supporting client growth and much more, their role is vital in ensuring that clients are always kept up-to-date and receive the best possible service from us.
And, on the subject of Client Partners, we have recently welcomed Kate to the Brace Digital team who has taken on these responsibilities! So, what better way to introduce Kate to you than by asking her a few fact-finding questions?! Here's more about Kate:
Had you heard of Umbraco before joining Brace Digital? (Come on, be honest!)
Yes I had! In my previous role, I worked predominantly with the WordPress platform and so I'm more familiar with this, but I had worked on a content population project for one client that was using Umbraco, so I was familiar with it as a CMS when I joined.
Where has your career taken you so far?
My first project management role was in the construction industry. I was working as an Assistant Project Manager on large scale projects for the Ministry of Justice as our client at the time. As my first PM role, this was brilliant. It really threw me in at the deep end and I learnt so much in such a short space of time. I felt it was quite a challenging industry to be in as a female at the time, but I think that actually really helped me looking back. From there, I moved across to be a PM in a full service creative agency and haven't looked back since! I love working in the industry, you get to meet so many different people and the projects are so varied.
Tell us a bit about yourself outside of work
Outside of work I have quite a big family that I spend a lot of time with. I have 5 nieces and nephews so Aunty duties pass a lot of my time! I love dance and the theatre and go as often as I can to see a show. I live by the coast so I enjoy walks by the sea and I eat out quite a lot as my reward for lots of walking!
What led you to Brace Digital?
I always enjoyed the digital projects in my role and was keen to learn more about the technical side of projects. The opportunity at Brace Digital is providing just that! It really appealed to me to be part of a smaller, close knit team rather than a big agency, and Brace Digital felt like a really good fit for me. They are a very organised, process driven agency which matches with the way I like to work.
What are you looking forward to getting stuck into the most?
I think, for me, it's building strong relationships with our clients. That takes time as you get to know each client, but it's really important to me to provide the trust and reassurance that a Client Partner should do in their role.
Give us a fun fact about you!
This is a difficult one to think of an answer for! Not necessarily a fun fact, but the most fun I've had recently has been learning to paddleboard, which for anyone who knows me would be surprised at as I'm not really an outdoors type of girl! But I'm enjoying it and definitely falling in less!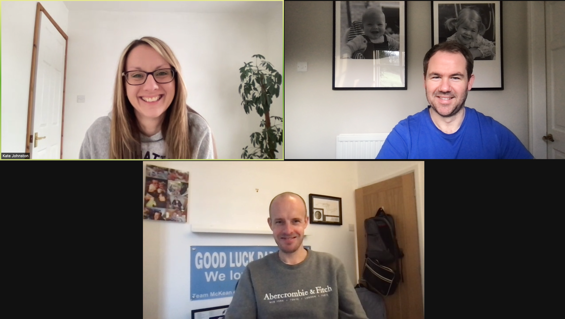 (Kate, Rick and Ben on one of their daily morning Zoom calls)
If you have an Umbraco project that you'd like to discuss with Brace Digital, an Umbraco certified partner, fill in the form below - it'll likely be Kate who gets back to you!
Get in touch with us to discuss your website requirements!