Editing content in Umbraco from a marketer's perspective
When I first started working with Brace Digital, I'll be completely honest, I had absolutely no idea what Umbraco was. I couldn't quite understand the concept of it or why it was a wise content management system (CMS) choice, compared to the likes of WordPress and Webflow. If you're anything like me, a slight wave of panic sweeps over you at the thought of using an unintuitive and confusing CMS on a daily basis to complete simple tasks such as amending content, adding or deleting pages and writing and publishing new blog posts. What I soon came to realise was, I actually had nothing to worry about with Umbraco.
Testament to Brace Digital, the way they have built and structured the backend of their website makes it so easy to use. I didn't actually need a run-through from them on how to navigate the different elements because it all just makes sense! As their marketing support, it is my responsibility to update content and add new blog posts on a monthly basis. So, I thought I'd give you a little insight into just how straightforward this process is.
The initial interface
When you first log in to the CMS, you're met with a screen that looks like this: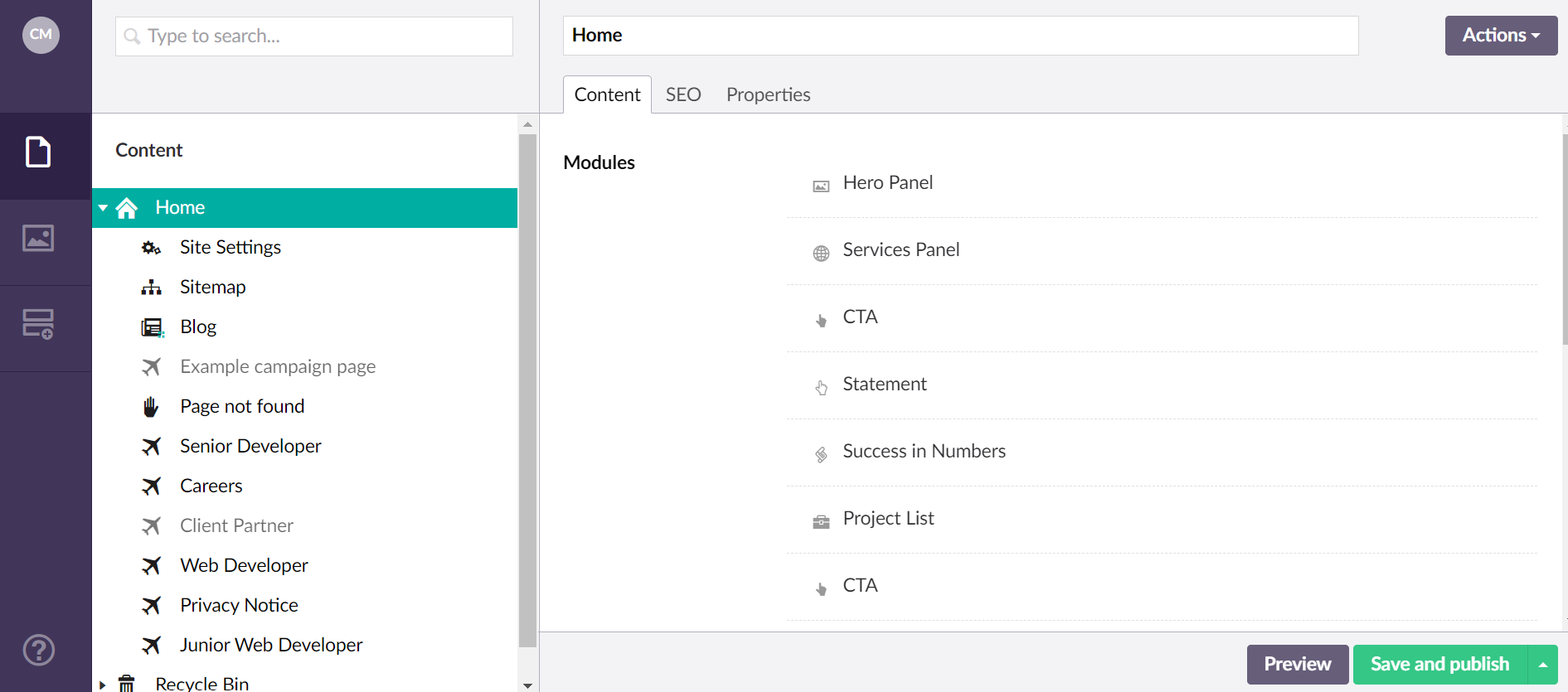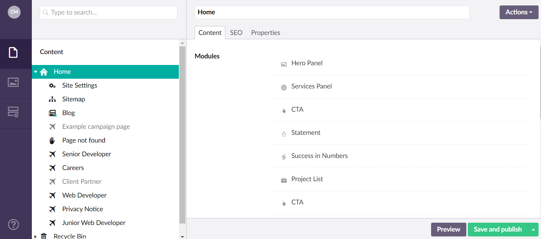 To the left, you'll find all of the pages on your website (both published and unpublished) and to the right, you can see the content modules for the page that has been selected.
Adding new blogs/articles
All of the blog posts are stored as 'Child items' under the blog content page. Here, you can clearly see what posts have been written and whether they've been published to the site or not.
And, to write or edit the posts, it's an unassuming WYSIWYG Editor; there's no faffing around trying to format your text and images -- it's just like using Microsoft Word or Google Docs: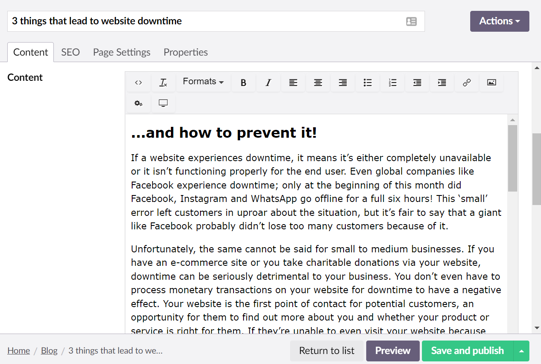 What's more, you can preview anything you've done before going live with the changes, plus you have so many different options or 'Actions' as they're known, such as 'rolling back' content to a previous version and viewing the audit trail of changes that have been made. Great for those silly little mistakes we all make!
Search Engine Optimisation (SEO) - is it hard to implement?
As marketers, we know how important SEO is and how it needs to be reviewed and improved regularly. Sometimes, SEO plugins on certain website platforms can be a tad confusing and overwhelming to use. But, Brace Digital has made it so self-explanatory with the way they build Umbraco sites. Again, I didn't require them to show me the ropes beforehand – I was able to just dive straight in!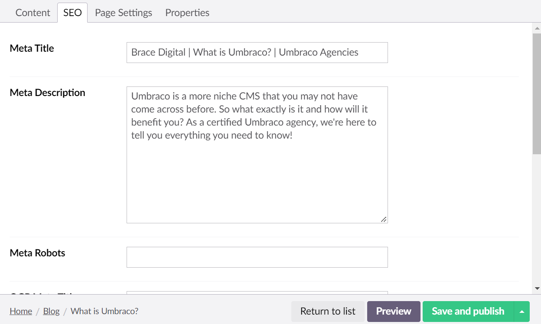 Organising your media
Isn't it frustrating when you need to use an image that you know you've uploaded to the website before, but you just do not have the time to scroll through hundreds of images to find it?! This is how multiple versions of the same image end up in your website media library! With Umbraco, the media library is very intuitively set up so you can create new folders and organise your images easily. It also shows you how that image looks in different sections of the website, for example, as a header image or in mobile view.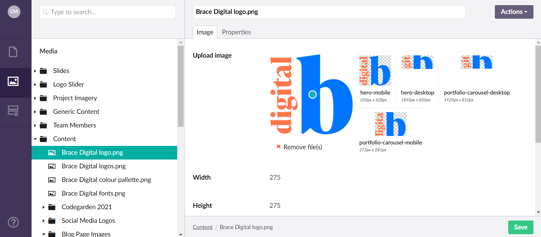 In summary
What I've shown you here doesn't even scratch the surface in terms of the capabilities of Umbraco for a marketer or content manager. Brace Digital's website is fairly uncomplicated, with no ecommerce functionality or additional features needed. But I wanted to give you a little insight into just how straightforward it can be to have your website built and maintained on Umbraco; there's a reason why it's known as "the friendly CMS".
And, if you have a website development agency like Brace Digital, this is reassurance that they will wholeheartedly ensure you can actually use the CMS in the best way for your needs. Their job is to build you top-notch Umbraco websites, while making sure that it enhances your responsibilities as a marketer – not inhibit them.
If you would like to speak to Brace Digital about migrating your current website to Umbraco, or to find out what Umbraco maintenance packages they offer, just fill in the form below and someone from their team will be in touch!
Don't worry, we've made it easy for you to get in touch with us! Fill in the form below and see how we can help you with a top-notch Umbraco website.