It's time to talk about cookies.
No, not the chewy chocolate chip ones (tea break, anyone?).
No, we're talking about those annoying messages that appear at the bottom of your screen when you visit a new website.
Although annoying, they play a significant role in handling your data and how you're tracked across the web. And this means that it's vital you apply the correct cookie strategy on your website to ensure that you are handling your website visitors' data in line with legislation.
But, what is a cookie?
A cookie is a small text file that allows a website to store certain information about a visitor, including past actions. If the user visits the website again, the website has all of their preferences stored to help them tailor the browsing experience.
Why are we talking about this now? Cookies have been around forever, right?
Yes, if you are an EU based business or your customers are primarily based in the EU, you are required to comply with the EU Cookies Directive and have been, by law, since 2011. The minimum requirements of the Cookies Law include:
You must give visitors information about the cookies; what cookies are used, why they are used and how they are used

A clear notice needs to be provided that tells users cookies are being used on the site

A link to the full Cookies Policy needs to be easily accessible

Users must give consent to the use of cookies by explicitly clicking an 'I Agree' button or ticking a checkbox
However, requirements have changed slightly over time and it's now recommended that you allow your visitors to either give consent or deny the use of certain categories of cookies. It is also important to make it easy for your users to update and change their cookie settings as and when they want to.
Let's take a look at some examples of cookie consent notices:
1. The BBC's opt-in top banner


The BBC has decided to have a banner at the top of the screen which allows users to either agree to cookies, or go to the settings for more information. They're not very forthcoming with what the cookies are used for and, instead, include a link for people to find the information themselves.
2. The National Trust's pop-up banner
The National Trust has opted for a pop-up consent banner to ensure that visitors don't miss it. They have included a friendly little explanation as to what cookies are and why they're needed. They also make it explicitly clear that users have the right to choose which cookies The National Trust can use.
3. The Guardian's half-page bottom banner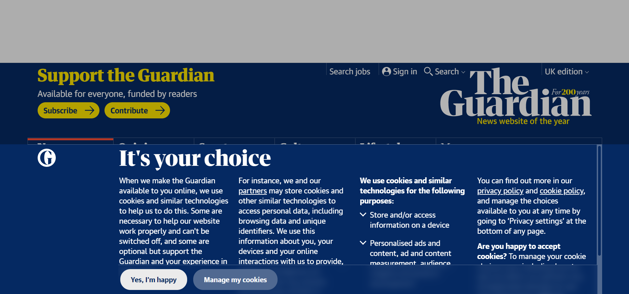 The Guardian has made it impossible for you to ignore their cookie consent notice. They've decided to use very approachable language, explaining clearly and simply what cookies are and how they use them. They've also included a link to both their Privacy Policy and Cookie Policy, and ask visitors whether they are happy to accept cookies.
Looking at the above examples, although all of the cookie consent notices allow visitors to manage their cookies, The Guardian (by far!) is leading the way in terms of best practices. They follow everything legislation stipulates, but it's been written in a user friendly way.
So remember, your cookie consent notice needs to be:
Displayed to people as soon as they visit your website

On every page so that, no matter what page your visitors land on, they will be shown the notice

Clear that your website uses cookies and that your visitors can either accept or decline them

Set up so that your users actually have to click on something to say they consent to the use of cookies

Easy to read, with information about how people can access your policies and how to manage their cookies
And, you must give your users the opportunity to accept or refuse cookies within different categories!
If your website is currently built on Umbraco and you need to improve your compliance with the latest legislation, get in touch with us by filling out the form below.
Don't worry, we've made it easy for you to get in touch with us! Choose your preferred method of contact and see how we can help you with the Cookies setup on your website.