Background
Centrepoint is a UK charity that aims to help young homeless people build a better future for themselves.
We have worked with the charity for the past four years, first developing their website back in 2018. Every year, we support their Christmas Virtual Gifts campaign by making improvements to their Umbraco website. This campaign allows you to buy a virtual gift, via their website, for a young homeless person; anything from a home-cooked Christmas dinner to a deposit for a flat.
This year we carried out a user experience (UX) review as the first step to identify any potential improvements we could make to enhance the usability of the 'Christmas Gifts' section of the Centrepoint website.
The problems they faced
First and foremost, the landing page for the campaign was somewhat unclear for the user in terms of providing key information on how the gift buying process works, what the user needs to do to actually buy a gift online, and order deadline dates.
As well as this, the e-commerce user journey needed improving; visitors were only able to view their basket by being directed to a page away from the main 'Christmas Gifts' page. This meant that if users wanted to head back to the main page to add further gifts to their basket, they'd have to click on the 'back' cursor of their internet browser and wait for the desired page to load; a slow way to navigate the whole process. We recognised that it was time to upgrade so that it's slicker for visitors to use.
The result? A difficult-to-navigate, clumsy and impractical way for people to purchase virtual gifts for those in need.
How Brace Digital helped Centrepoint
In order to enhance the 'Christmas Gifts' section of the Centrepoint website, there were a number of amendments we made:
Redesigned the entire page so that it is a smoother e-commerce experience
Updated the hero section with a content managed heading and subheading to explain the process in an easy-to-read manner, with a clear call to action to encourage website visitors to take the next step
Redesigned the top banner section so that the order deadline date is more prominent for visitors to see
Added a new section, containing graphics and text, to clearly detail the process of purchasing and ordering a virtual gift
Allowed users to preview their basket without having to leave the main 'Christmas Gifts' page on both desktop and mobile
Allowed more elements of the page to be updated by the content management system (CMS) editors so they don't have to rely on us to make changes to the hard coded sections
"Brace Digital is always quick to respond and report back to us on time. They are very responsive and know our site very well." - Centrepoint's Head of Communications
Before and After
Old top banner design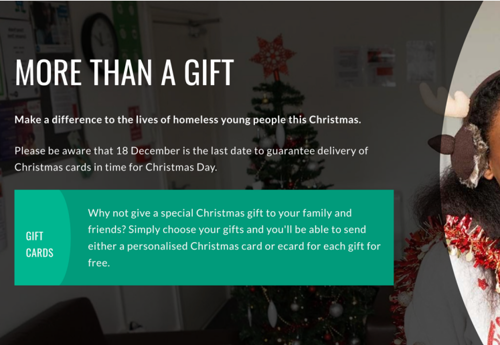 New top banner design

New order deadline date alert

New 'how it works' section
New basket preview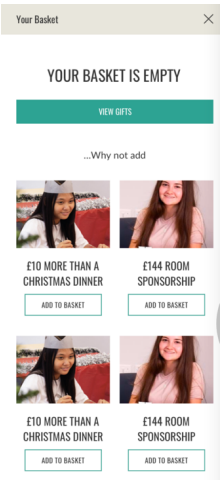 The result? A simple, easy-to-use and clean e-commerce journey for website visitors who are looking to purchase a virtual Christmas gift for a young homeless person this year.
If you would like to discuss your Umbraco website requirements, get in touch with our team by filling out the contact form below. We look forward to chatting with you!