In February we officially welcomed Sian to our team!
Sian joins us as our Agency Administrator. Her role is essential to ensure the smooth-running of the business on a day-to-day basis. Some of her responsibilities include setting up new projects and the administration associated with this, looking after our accounts, supporting with sales administration and making sure all of our systems and records are maintained and kept up to date.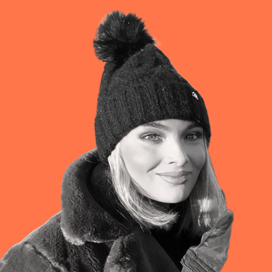 Get to know Sian with a few fun questions!
Where has your career taken you so far?
My first job was running my own jewellery business. I would make jewellery and sell it online and at shows all over the UK. This is where most of my digital experience comes from as I didn't have the funds to outsource my needs, so I had to build the website and do all the marketing myself! I learnt so much but I was also faced with a lot of challenges. From there, I moved into an admin role whilst studying at university and haven't looked back since! I love the diversity of tasks a day brings and even the unexpected challenges that arise. Also getting to work with a wide variety of different people.
Do you prefer to work as a team or as an individual?
I enjoy a blend of both! I find I do some of my best work when I can focus alone but I also value collaborating with my colleagues to come up with strategies and new ideas.
If you could be any animal, what animal would you be and why?
I would be a tiger because they're always on the go! I feel as though I'm always busy and active especially being a mum to a toddler and I love going on big walks.
What is your favourite place you have visited and why?
Ooo this is a tricky one! I think my favourite place to visit is Spain. I have so many special memories there growing up as it was always our 'go to' holiday. We always stay by the seaside – another one of my favourite places to visit.
What led you to Brace Digital?
I have always been really excited by this industry and was keen to learn more. I aIso wanted to work with a company and a team that strives to continually improve, develop, and offer the best service possible to its clients and I think Brace Digital does exactly that!
What 3 items would you take on a desert island with you?
Oooh! I think the first item I would take would be a polaroid camera. Hopefully I would come across some amazing scenery and wildlife to photograph!
Then I would probably take a book- my current favourite is Atomic Habits. I love reading thought provoking books aimed at improving your life and changing the way you think. 
Then I would take my daughter if that counts! She would definitely keep me company on our adventure, and I imagine we would make some amazing memories!
What is your 'go to' karaoke song?
Ha! Those of you that know me, know that I LOVE a good sing and a good dance (neither of which I am very good at!) I don't really have a 'go to' song though. Just anything that would get everyone up and singing along with me.
Tell us a fun fact about you!
I always struggle to answer this question! It isn't really a fun fact, but I love to cook. I have always been very mindful of what I am eating, and I love that cooking allows me to be creative and discover new foods and flavour combinations.
Wow that all sounds great! Thank you for taking the time out to speak to us, we can't wait to see where this role takes you.
To discuss your website development requirements, fill in this contact form and a member of our team will get back to you shortly.